Membership in the Academy of Senior Professionals at Southern Nazarene University is open to anyone who is interested in being a part of the Academy.
Members do not have to be alumni of Southern Nazarene University or associated with the Church of the Nazarene. There is no age limit for membership, although the majority of the members are retired.
Some people who work with the retired population have found a benefit from associating with the Academy members. Please note, however, that some of the benefits outlined in the benefits section are age specific.
---
Membership Qualifications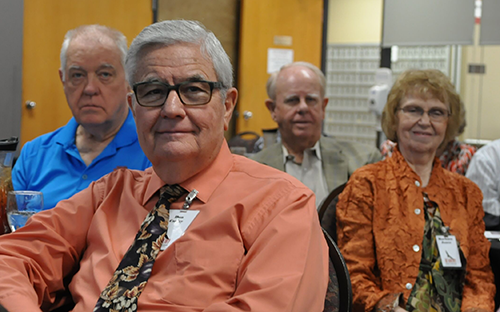 The Academy of Senior Professionals is open to persons who would like to join with other professionals in realizing intellectual, cultural, spiritual or service activity goals. Application for membership may be made to the Director of the Academy or the Chair of the Membership Committee. Applications are considered by the Membership Committee and the Administrative Council when accompanied by designated membership fees.
Application may be made by downloading the form on this web site or by requesting one from the Academy Director or the Membership Committee Chair.
Applications must be accompanied by an initiation fee of $10.00. Dues are payable at your first meeting prorated based upon $20.00 a year.
---
Benefits of Membership
Intellectual stimulation
Informative luncheon programs
Interactive small group discussions
Cultural enrichment through arts, humanities, and multicultural events
New discoveries of knowledge and experience through research and sharing
Emphases on total well-being through physical, mental, and spiritual wellness
Community volunteer opportunities in hospitals, museums, educational institutions, and service organizations
Opportunities for tax-free donations to help financially with worthy ASP projects
Access to the SNU swimming pool and tennis courts
Access to the SNU Library R. T. Williams Learning Resources Center
Discounts for SNU fine arts and athletic events
Discounts at the SNU University Store
Dining at the SNU cafeteria
Free parking in SNU lots
Free shuttle service to and from the ASP luncheons originating in the SNU parking lot north of the Sawyer Center (41 st & Donald)
---
Please mail applications to Membership Secretary: 

Linda Carley 8400 NW 64th Terrace
Oklahoma City, OK  73132-3816